FAFSA Workshop Helps Students and Parents
FLAGSTAFF (November 5, 2017)
A total of over 21 students and parent were served at the Flagstaff FAFSA Completion Workshop on November 4, 2017.  The event was held at the Coconino Community College Fourth Street Campus and coordinated by the Northern Arizona College Resource Center with financial support from College Knowing and Going.
Students and their parents received free individualized assistance from volunteers trained in completing the Free Application for Federal Student Aid (FAFSA).  Filing the FAFSA is the first step in finding and receiving scholarship and grant money to help pay tuition and fees for post-secondary education.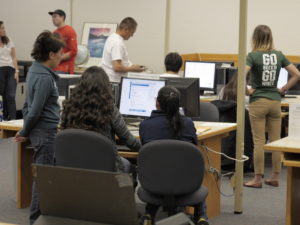 Data also show that when a high school student completes the FAFSA, they are more likely to enroll in a post-secondary educational experience.  Increasing the number of students who do pursue additional education and training after high school is one of the five goals of the LAUNCH Flagstaff partnership.
According to a report from the Center on Education and the Workforce at Georgetown University, 65% of all jobs will require education and training beyond high school by 2020.
Additional in-kind support for the event was provided by Safeway, Domino's Pizza, Dutch Bros. Coffee and Kinney Construction services, which donated a GoPro camera for raffle at the event.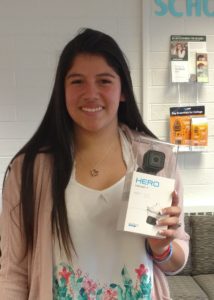 Raymi Hernandez is the student who won the GoPro.  Raymi is a graduate of Flagstaff High School and is currently a first year student at Yavapai College in Prescott, studying forensic science.  She feels that the FAFSA seems complicated and difficult to complete.  She is happy to receive help from people who will sit down and assist her with the form.  She plans to eventually transfer to NAU after completing her general studies courses at Yavapai and ultimately pursue a masters degree.  Raymi says she intends on completing a FAFSA every year she is in school and relies on organizations and events like ours to receive help.
Congratulations Raymi!