PRESCHOOL EXPANSION PROJECT
IMPACTS: Kindergarten Readiness; Third Grade Reading Proficiency
Too few children in Flagstaff have equitable access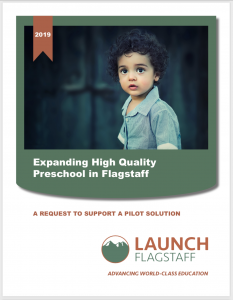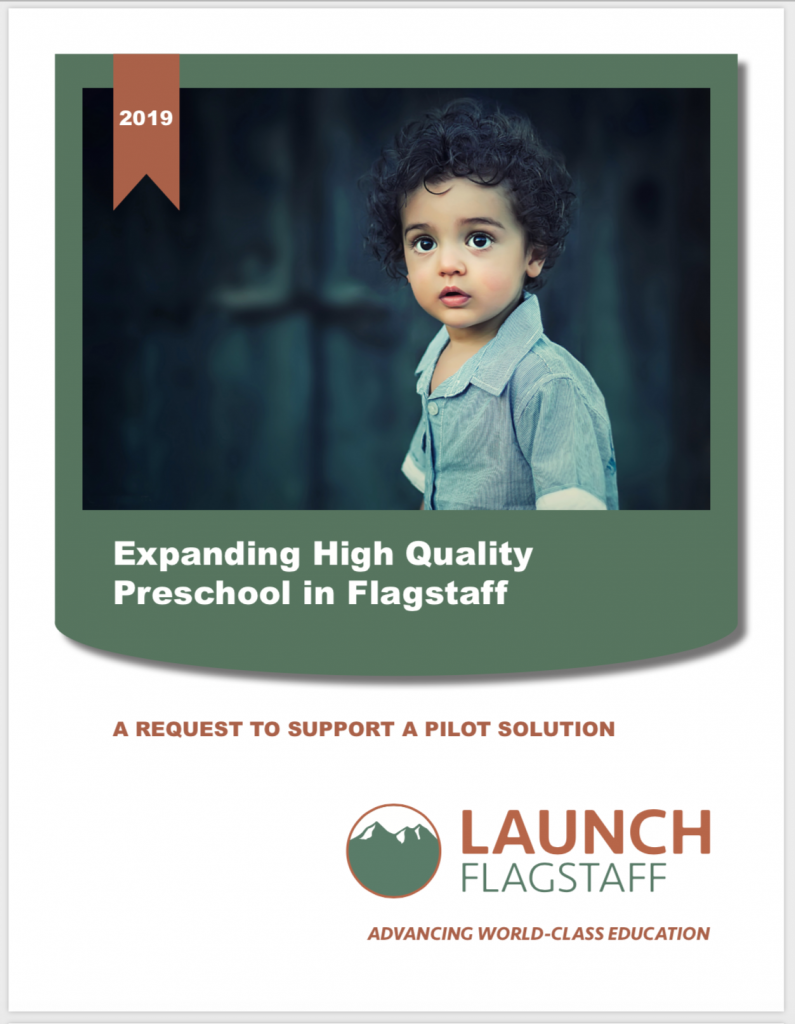 to high-quality preschool.  This condition is unsatisfactory and is an obstacle for advancing world-class education for every child in Flagstaff.  See the data here.
Expanding preschool opportunities will certainly produce benefits that exceed its costs.  We estimate a local return of $16 for each $1 invested in the preschool expansion project.  Read our report here.
LAUNCH Flagstaff has cultivated the initial community infrastructures and political will to pilot a collectively-funded project that provides high-quality, full-day, year-round preschool for children who are not otherwise being served in existing preschool sites.  We are on track to seat the first class of students in fall 2020.  See the roadmap outlining how we'll get there.
WHAT HIGH-QUALITY PRESCHOOL LOOKS LIKE
PROGRESS TO DATE:
Published the report:  Expanding High Quality Preschool in Flagstaff: A Request to Support a Pilot Solution
Initial investment from key community partners established:

City of Flagstaff: $70,000 for FY20
Coconino County: $70,000 for FY19-FY20
Wharton Foundation: $150,000 for FY20-FY22
Flagstaff Unified School District: $125,000 earmarked in FY20-21 budget for capital improvements
Additional funding for the three-year pilot is being explored among additional community and statewide partners.

August 30, 2019 planning retreat was conducted to produce an implementation road map.  See the road map here.
Rebecca Cirzan from the Association for Supportive Child Care begins serving as the coordinator of the implementation process with an independent focus on ensuring a high-quality product.
Research has been conducted using a mapping process of existing high-quality preschool sites and overlaying that information with demographic data from the City of Flagstaff to identify potential locations for the first two classrooms.
Focus groups have been conducted with families of preschool aged children to better understand their needs.
Participating organizations in this conversation include:
Arizona Community Foundation of Flagstaff
City of Flagstaff
Coconino Community College
Coconino County
Coconino County Superintendent of Schools
Expect More Arizona
First Things First
Flagstaff Unified School District
Greater Flagstaff Chamber of Commerce
Lowell Observatory
NACOG Head Start
Northern Arizona University
The NARBHA Institute
The Wharton Foundation
United Way of Northern Arizona