LAUNCH Flagstaff Selected for Read On Arizona Acceleration Zone Project
FLAGSTAFF September 6, 2018
Read On Arizona, thanks to partial funding and support provided by the Arizona Community Foundation and the Arizona Department of Education Early Childhood Unit, recently launched the Acceleration Zone Project focused on exploring how targeted communities throughout state can accelerate progress towards the goal of eliminating the literacy gap for economically disadvantaged students in Arizona.
"We are pleased to announce that Flagstaff has been chosen as one of six communities in Arizona to participate in the Acceleration Zone Project," said Arizona Literacy Director for Read On Arizona, Terri Clark
Clark made the announcement today at the United Way of Northern Arizona annual campaign kick off event in Flagstaff, where educational success and early childhood literacy took center stage.
The Acceleration Zone Project seeks to build the capacity of change makers who are interested in leading the charge for effective, equitable, and accelerated early literacy results in their communities. The project will harness the power of collaboration through a "reflect and adapt" process incorporating strategies that will inform next steps to delivering scalable impact, focused on school readiness and/or early literacy in identified Acceleration Zones.  Participants will take part in a shared learning cohort with colleagues from around the state to delve into understanding their own success and others, analyze results, and share lessons learned about data, contributing factors to success, and policy support needed for successful implementation to scale their work. Through this project, these zones will provide success analytics on what works and how our community and schools can accelerate early literacy and language development for Arizona's young readers.
The LAUNCH Flagstaff Acceleration Zone will initially focus on families with children aged 0-8 years and have children enrolled in either W. F. Killip Elementary School, Kinsey Inquiry and Discovery School, Eva Marshall Elementary School, Mountain Charter Elementary School, PEAK Charter School, or Charles W. Sechrist Elementary School.  These sites were specifically chosen because of their collaboration in another early learning effort facilitated through LAUNCH Flagstaff.
"We know that age appropriate literacy in language and mathematics in the early years is fundamental to life-long learning," said Paul Kulpinski, Partnership Director of LAUNCH Flagstaff.  "The partners of LAUNCH Flagstaff also realize that there is a lot of work to do to ensure equitable access to high-quality early learning opportunities for every child.  This project will give us the opportunity to access supports and resources that will bolster our current work, which is why we are so thrilled to be selected."
Current data shows that less than half of Arizona third-graders passed the AzMERIT English Language Arts assessment and students who are not reading proficiently by the end of third grade typically struggle throughout their elementary years, are less likely to graduate high school, and attend college.
"Read On Arizona is excited to work with these six zones in unpacking their success and helping identify acceleration factors that will lead to better outcomes and can be shared with partners throughout the state," said Arizona Literacy Director, Terri Clark. "This was a competitive process and the collaboration, commitment to data and opportunity for shared learning will help LAUNCH Flagstaff build a pathway for early literacy, so Flagstaff's children will have the supports and services they need to meet their potential as young readers and thrive."
_________________________________________________________________________________________
About Read On Arizona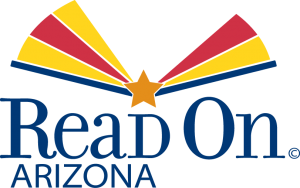 Read On Arizona is a statewide, public/private partnership of agencies, philanthropic organizations and community stakeholders committed to determining the gaps, identifying solutions, and implementing a collaborative approach to improving language and literacy outcomes for Arizona's children ages birth through the end of third grade. For more information, visit www.ReadOnArizona.org.