Screen Time Symposium: a collaborative success
FLAGSTAFF (January 31, 2018)
On the afternoon of Sunday January 28, 2018, nearly 300 parents, students and community members came out to participate in the Screen Time Symposium at the Coconino Center for the Arts.  Top billing for the event was two screenings of the film Screenagers, which probes into the vulnerable corners of family life and depicts messy struggles, over social media, video games, academics and internet addiction.  However, the greatest excitement came from student dramatic performances from Coconino High School and Flagstaff Arts and Leadership Middle School students on the topic of social media and technology addiction .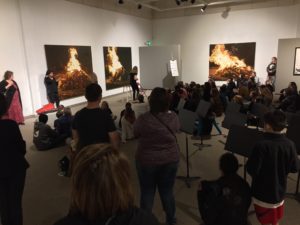 Coconino drama club students Sarah Norris, Lynn Selby and Emily King performed "My Life" which was created out of three individual student experiences. FALA students performed a series of short scenes, the order of which was randomly selected by audience members.
The student performances were one of several break-out sessions which followed the first screening of the film. In another session attendees participated in a hands-on art project led by local artist Julie Comnick, who's exhibition of Arrangement for a Silent Orchestra served as the foundation for the entire symposium.  David McCain of Communicating with Heart, facilitated a Compassionate Communication workshop with local therapist Sarah Edmunds.
A discussion after the film by a panel of local experts helped put the film into context for the audience and provided some practical tips from lessons learned.  McCain participated on the panel along with Christine Compain, school counselor at Northland Preparatory Academy, Danielle LeBlanc, student at Northern Arizona University, and Matt Wright, a retired Flagstaff police detective and father of two teenage boys.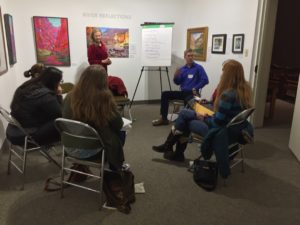 Compain recounted her experiences last year at NPA with the level of disruption social media was creating for students' ability to remain focused on school work during the day.  As a result, this school year NPA has initiated a cell-phone free campus during school hours, which Compain said has made a big improvement.  "Schools can make changes, but they need the help of parents," she said.
Speaking from a parent perspective, Matt Wright described some of the boundaries he and his wife Lori have set for their two sons and the implications of social media from a law enforcement perspective.  "I've seen a lot of lives and careers ruined from a careless social media post," he said.
Stephanie Kohnen, parent of a FALA 7th grader said, "The movie really made parents re-evaluate their family screen use."  She added that her daughter's friends "were complaining that their parents had 'gotten some ideas' from the movie."  Kohnen said that parents of one of her daughter's friends took action by disconnecting their child's social media apps during school hours.   "Her friend was not happy," she said.
"My hope is to provide an opportunity for discussion in the home," said Compain about her interest in helping coordinate the event.
That discussion appears to be happening as Kohnen reports "the rumblings from the teens continue" several days after the event.  "This film has definitely caused a ripple effect," she says.
Kohnen says she feels the entire symposium "made a huge step in creating a more supportive alliance between families and schools on the issue of teens and screens."
In addition to Kohnen and Compain, other organizers for the Screen Time Symposium were:
Local artist, Julie Comnick
BASIS Flagstaff, Carrie Bieging and Alicia Vaughan
Coconino High School, Donna Lyons, Kristi Long, and Stacie Zanzucchi
Coconino High School Digital Media Program, Jeremy Gemetta and Dylan Langan
FALA, Doug Lyerly
with support from LAUNCH Flagstaff and the Flagstaff Arts Council.
Funding was provided by the United Way of Northern Arizona.