LAUNCH Flagstaff Releases Initial Baseline Education Report
FLAGSTAFF (February 21, 2018)
LAUNCH Flagstaff has released a Baseline Education Report, with some initial strategies for improving educational outcomes for every child. A partnership of community stakeholders, LAUNCH Flagstaff has a set of shared goals which encompass kindergarten readiness, third grade reading proficiency, eighth grade math proficiency, high school graduation and enrollment in post-secondary education and training.  The partnership's newly reported data spotlight specific areas for increased focus, based on the premise that student success leads to a community's health and vitality.
Opportunity for Improving School-Readiness Skills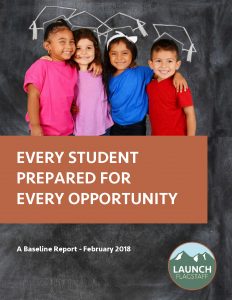 A 2013 report revealed just 47% of Coconino County five-year-old students possess social and academic skills imperative for kindergarten success. LAUNCH Flagstaff is currently investigating the relationship between several factors measurable in kindergarten that may predict later success in third-grade reading performance.
"We recently studied a cohort of students who finished third grade in spring 2017 and correlated their preschool experience and kindergarten performance with their third grade reading scores on the state standardized test," said Paul Kulpinski, Partnership Director of LAUNCH Flagstaff. "Our initial findings show a strong correlation between greater reading readiness in kindergarten and higher proficiency in third grade English language arts, in the context of several other non-education related factors."
Cradle Through Career
LAUNCH Flagstaff recognizes that education for a career can include more than a two or four-year degree program. It can also include military or civic service, and training or apprenticeship that leads to certification in a desired field. The baseline data show that only 61% of Flagstaff area high school students find placement in post-secondary education and training after graduation.
The report recommends a communitywide focus on completion rates for the Free Application for Federal Student Aid (FAFSA), completion rates of dual enrollment courses, and participation rates in internships by students while still in high school.
Math Proficiency is Key for Success
The Baseline Education Report reveals that just 30% of Flagstaff's eighth graders perform at grade level in math.  Because eighth grade math proficiency is an indicator of high school and career success, LAUNCH Flagstaff is currently analyzing this local data to develop specific steps for 2018 and beyond with strategies that are proven effective for increasing student success.
Community Leaders Create a 2018 Roadmap
On February 6, 2018, the LAUNCH Flagstaff Community Leadership Council met to review the data and outline specific steps for the year ahead. These steps provide a roadmap for the community as LAUNCH Flagstaff facilitates the alignment of existing resources in support of practices that create measurable improvements of the partnership's goals.
LAUNCH Flagstaff also recognizes the connection between educational outcomes and the impacts of other community systems on families.  There is a strong correlation with education attainment to greater self-reported health status as shown in the 2017 Regional Health Equity Assessment from the NAU Center for Health Equity Research.  "This is one demonstration of how the success of LAUNCH in improving educational outcomes can support improvement in other community sectors," said Kulpinski.
Education is also deeply linked to conditions of poverty as reported in the recently adopted 2017 Coconino County Community Needs Assessment.  Based on those findings, County Supervisor Chair Matt Ryan commented, "It is imperative that education play a much more meaningful role for all of our residents in the community so that our County can thrive and families have hope for their future – all leading to the health and vitality of our community."
The Community Needs Assessment which included focus groups throughout the County and poverty analysis. The Assessment shows that Coconino County residents primarily are impacted by their inability to afford housing, attain quality and affordable education (K-20), access to affordable healthcare and sustain themselves and their families over time for a healthy lifestyle. With a 24% poverty rate, it is the 4th highest county poverty rate in the state. Only 22% of lower income residents have some college or a bachelor's degree. This leads to their social disregard and an inability to move their families out of poverty.
"LAUNCH Flagstaff serves as the impartial agent that brings together the right people with the right data," said Kulpinski. "We couldn't do that without major support from the Arizona Community Foundation of Flagstaff, the United Way of Northern Arizona, and The Wharton Foundation."